BTS Jimin is making headlines for showing off his perfect cooking skills in a collaboration broadcast with CEO Baek Jong-won.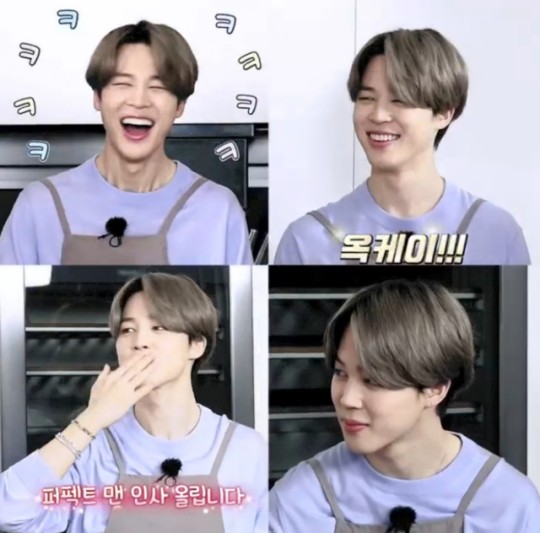 BTS's own entertainment show "RUN BTS 2020" - EP.125, which aired on Naver V LIVE and fan community platform Weverse on the 19th, aired "K-Ham Special Episode."


On the same day, the purpose was to help hard-earned Handon farmers in the aftermath of Corona 19, and Baek Jong-won, the representative of The Bonn Korea, the godfather of the restaurant industry, was a judge.


Jimin usually said he likes pork more than beef, and cooking programs he starred in in in the past are being re-examined. Jimin's favorite snack Tteokbokki, which has been considered the main character of the "K Food craze," has drawn keen attention.
Jimin, who got the "Okay" sign for the first time among the members as the cooking competition began, showed innocent joy, while "When we were trainees, the meal was in charge of me." This hand is a magical hand,' he said, appealing what he is good at, and immersed himself in the mission with an active attitude, making Baek Jong-won laugh.
Jimin, who has expressed his belief that "decoration is the heart" in the screening conducted after all the dishes were completed, showed a unique sense with a fried egg decoration shaped like a bouquet of flowers.
In particular, it was appropriate to bake from CEO Baek Jong-won. Jimin, who was praised as 'perfect,' drew attention by responding with a hand kiss.

After the screening, Baek Jong-won declared a joint victory for both teams and delivered seven knives with his name on them as gifts to all the members.
Bias' Pics & Gifs▼▼▼▼▼▼
Raise Bias' brand reputation↓↓↓↓↓↓
iOS Application: https://apple.co/32cxWki
Android Application: play.google.com/store/apps/details?id=com.hashpurple.kdol_flutter