The group BTS showed its potential to chart in the Billboard Hot 100 for six months.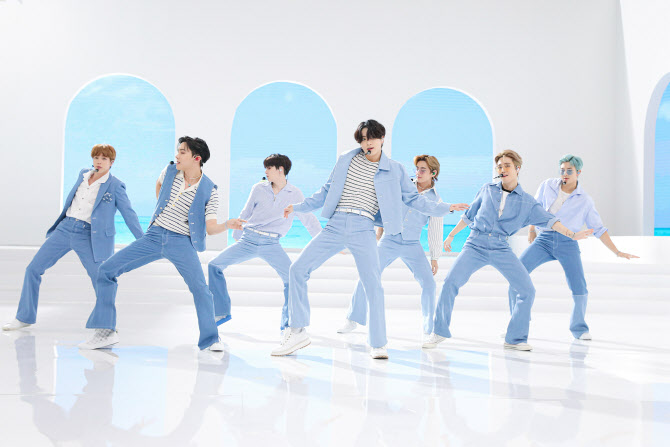 According to the latest chart (January 23) released by Billboard, a U.S. music media outlet, BTS's digital single "Dynamite" ranked second on the Billboard Global (excluding the U.S.) chart and third on the Billboard Global 200 chart.


The Billboard Global 200 and Billboard Global (excluding the U.S.) charts are ranked by aggregating streaming and sales in more than 200 regions around the world. In particular, BTS topped the Billboard Global (excluding the U.S.) a total of eight times, setting the highest number of No. 1 records since the chart was created.


"Dynamite" remained at the top of other Billboard charts.

It ranked 35th on the Billboard main chart "Hot 100", 6th on the "Digital Song Sales", 9th on the "Top Thriller Global", 15th on "Adult Pop Air Play", 17th on "Adult Contemporary Pop Song", 22nd on "Mexico Inglas Air Play", 22nd and 27th on the "CAP" respectively.


The new album "BE" (Deluxe Edition) and the title song "Life Goes On," which were released in November last year, are also proving their popularity on the charts.


"BE" ranked 50th on the main album chart "Billboard 200", ranked No. 1 on the "World Album", No. 6 on the "Independent Album", No. 11 on "Top Current Album Sales" and No. 12 on the "Top Album Sales". "Life Goes On" ranked third in "World Digital Song Sales," 53rd in "Billboard Global (excluding the United States)" and 84th in "Billboard Global 200," respectively.


In addition, BTS topped the 2020 annual album chart released by the official music chart Gaon Chart. It also achieved 10 million album sales in Korea and Japan last year.
Bias' Pics & Gifs▼▼▼▼▼▼
Raise Bias' brand reputation↓↓↓↓↓↓
iOS Application: https://apple.co/32cxWki
Android Application: play.google.com/store/apps/details?id=com.hashpurple.kdol_flutter