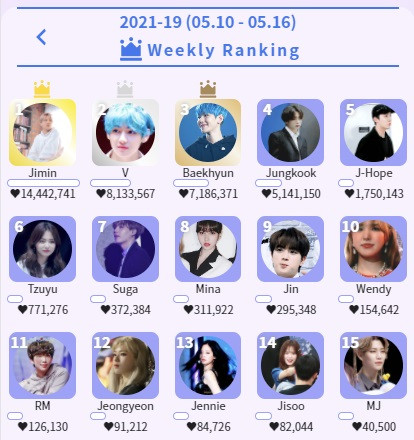 BTS Jimin has also received the most hearts in the second week of May on the global K-pop idol popular voting service app "KDOL," proving his popularity by topping the weekly rankings for 40 consecutive weeks.


"KDOL" is an app that collects popularity rankings for K-pop idols in real time, resets them every day at midnight in Korean time, and adds up the daily, weekly, monthly rankings and all the votes in this ranking to the Hall of Fame.


In the second week of May, Jimin ranked first with a total of 14,442,741 hearts. Second place was BTS V with 8,133,567 hearts. EXO Baekhyun (7186,371 hearts), BTS Jungkook (5141,150 hearts), J-Hope (1751,43 hearts), and TWICE's Tzuyu (771,276 hearts).


Since August last year, Jimin has received 259,038,863 hearts without missing the weekly and monthly No. 1 spot, dominating the Hall of Fame by more than 100 million points from No. 2.


"KDOL" a global K-pop idol popularity voting service that allows voting in countries around the world, reflects 100% of the votes of users participating at home and abroad, including the U.S., Japan, Southeast Asia, and Korea.


Jimin is also recorded as the only idol member to be ranked No. 1 in the "KDOL" Hall of Fame in the fast-changing K-pop ecosystem, proving his worldwide popularity and influence.
KDOL app download and Raise Bias' brand reputation↓↓↓↓↓↓
kdol.page.link/?apn=com.hashpurple.kdol_flutter&ibi=com.hashpurple.kdol-flutter&isi=1524477967&link=https%3A%2F%2Fkdol.me%3Fkbv%3D123