Group BTS Jin explained directly to the suspicion of portion in the amount of "You Quiz on the Block".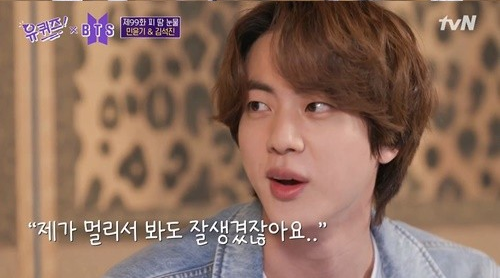 tvN's entertainment program "You Quiz on the Block" (hereinafter referred to as "You Quiz") aired on the 24th featured BTS to talk about the truthfully.


Jin also said about his mention of dissolution during the "2018 Mnet ASIAN MUSIC AWARDS" (MAMA), "At that time, I talked about it and was criticized by the members a lot." "But I overcame that time and came here like this." He drew attention by revealing the behind-the-scenes stories of Big Hit Entertainment's casting.


However, after the show, fans complained that Jin's portion was short. In particular, there were opinions that it was discriminated against, and some fans posted complaints on the viewer's bulletin board.


In response, Jin quickly dismissed the controversy by leaving a feedback to Weverse, a fan online community, saying, "Thinking about what I said on UQuiz again, I asked you to cut it because it was too depressing."

Fans who saw Jin's writing were convinced and deleted the complaint.
Bias' Pics & Gifs▼▼▼▼▼▼
Raise Bias' brand reputation↓↓↓↓↓↓
kdol.page.link/?apn=com.hashpurple.kdol_flutter&ibi=com.hashpurple.kdol-flutter&isi=1524477967&link=https%3A%2F%2Fkdol.me%3Fkbv%3D123