BTS V has fascinated fans around the world with his visuals and lovely charm.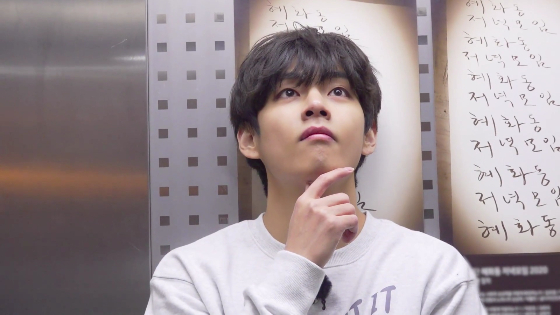 BTS aired the 135th episode of its own entertainment show "Run BTS" on Naver V LIVE and Weverse on the 30th. In this broadcast, he played a game in which he drew one of six cards under the mission of Protecting My Things, hid the object, and got 10 points for protecting his own things, and 3 points for finding other people's things and guessing the owner.


V, who had bangs, wore a casual sweatshirt and looked young as if he was aging backwards. Before choosing the card, V's lovely appearance, which he closed his eyes and gathered his hands neatly, saying, "I should ask the angel," made fans around the world excited.


The members began to hide their respective items, and V was proud after finding a pantry while trying to find a place by pulling out a "Suga Panel," wrapping it in a black plastic bag and hiding it in the refrigerator. The members didn't find out until the end, and V's cleverness and ingenuity shone.


V, who goes around looking for things from place to place with the members, made fans excited by his looks as if he had torn a cartoon just by looking at it.


V, who sharply caught the production team laughing as he passed in front of the elevator, said, "Why did you laugh?" and approached the front of the elevator and gave a sense of tension that seemed to show a six-sense twist. V, who had doubts, soon entered the elevator, but could not find anything hidden in the ceiling lights.


V wanted to find a hidden place through information collection rather than just looking for it, but surprised fans who watched with delicate reasoning, remembering the member whose hands were cold and searching through the snow.


After this episode, V was ranked No. 1 in Japan's Twipple Trend celebrity rankings and also on hot topics, realizing his popularity. Related search terms included "elevator" and "communication with angels," reflecting interest in them.
Bias' Pics & Gifs▼▼▼▼▼▼
Raise Bias' brand reputation↓↓↓↓↓↓
kdol.page.link/?apn=com.hashpurple.kdol_flutter&ibi=com.hashpurple.kdol-flutter&isi=1524477967&link=https%3A%2F%2Fkdol.me%3Fkbv%3D123