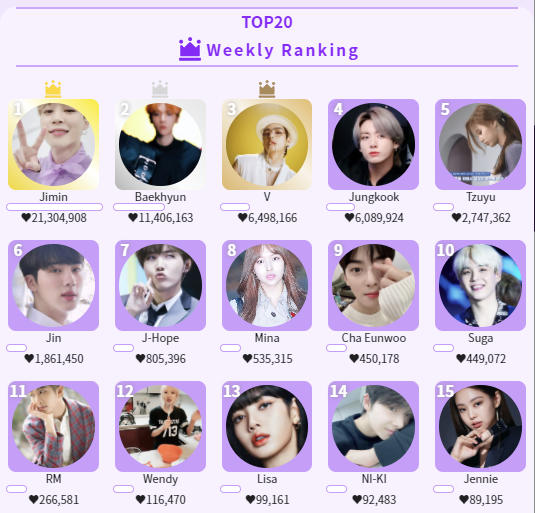 BTS Jimin continues to dominate the "Weekly Hall of Fame" by receiving the most hearts on the global K-pop idol popular voting service app "KDOL."


KDOL aggregates real-time votes for K-pop idols and resets them every day at midnight in Korean time, and adds up the daily, weekly, and monthly rankings and total votes to the Hall of Fame.


In last(Second week of June) weekly ranking, Jimin topped the list with a total of 21,304,908 hearts. Second place was EXO Baekhyun with 11,406,163 hearts. BTS V (6,498,166 hearts), BTS Jungkook (6,089,924 hearts), and TWICE Tzuyu (2,747,362 hearts).


Since August 2020, Jimin has never missed the first place in the weekly and monthly rankings for 45 consecutive weeks and has been ranked first in the monthly rankings for 10 consecutive months, receiving 395,882,418 hearts overall, dominating the Hall of Fame.


KDOL, a global K-pop idol popular voting service that allows users to vote from around the world, reflects 100% of the votes of users from home and abroad, including the U.S., Japan, Southeast Asia, and Korea, allowing users to recognize K-pop idols' global popularity in real time.

Anyone can participate in KDOL voting through the link below.
KDOL app download and Raise Bias' brand reputation↓↓↓↓↓↓
https://kdol.page.link/?apn=com.hashpurple.kdol_flutter&ibi=com.hashpurple.kdol-flutter&isi=1524477967&link=https%3A%2F%2Fkdol.me%3Fkbv%3D123