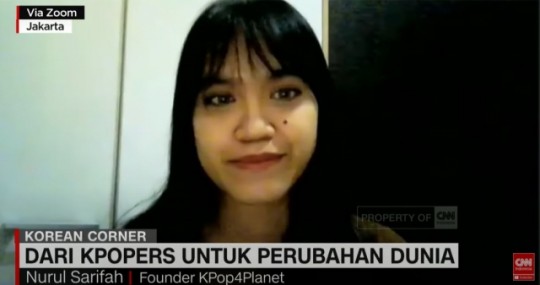 "I want to let you know that K-pop fans around the world are doing activities for the environment, society, and climate in addition to fan activities."


While K-pop Po Planet (K-pop for Earth, K-pop4Planet), a climate action platform led by global K-pop fans, is actively engaged, CNN has reported their activities intensively, drawing attention.

At the end of May, CNN Indonesia Channel conducted a live interview with Nurul Sarifa, an Indonesian college student who is the operator of K-pop Planet.


"K-Pop Planet" is a platform launched by K-pop fans around the world to show the good influence that K-pop artists and fandoms have pursued in the climate field and to unite with various fans for future-oriented actions by the government and companies.


Since its launch in March, it has received keen attention from more than 50 media around the world, including Reuters and Rolling Stones, as well as in Asia and Europe, showing interest in their activities in the U.S. and South America.


Nurul Sarifa said, "We are attracting the public by using social media where K-pop fans are actively active as a major platform." "We hope that environmental movements using Twitter and Instagram will spread worldwide."
KDOL app download and Raise Bias' brand reputation↓↓↓↓↓↓
https://kdol.page.link/?apn=com.hashpurple.kdol_flutter&ibi=com.hashpurple.kdol-flutter&isi=1524477967&link=https%3A%2F%2Fkdol.me%3Fkbv%3D123