Thanks to the global popularity of TWICE's first English single 'The Feels', they surprisingly opened a behind-the-scenes cut of their music video.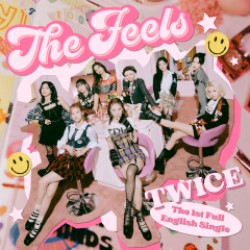 With the new song 'The Feels' released simultaneously around the world on October 1st, Twice achieved a splendid achievement, entering 83rd on the US Billboard's main chart 'Hot 100' and 80th on the UK official chart. This is their first English single to be released after 6 years of debut, adding meaning to their first entry on the chart.


The music video, released along with the sound source, captured the hearts of K-pop fans at home and abroad by capturing the excitement of the members invited to the prom party in a lively atmosphere. The number of YouTube views exceeded 10 million within 12 hours of its release, and as of noon on the 18th, it exceeded 75.85 million views, continuing its rapid sprint towards the record of 'the 19th 100 million views in total'. In response, JYP Entertainment released a behind-the-scenes image of the music video and responded to the support of worldwide fans.


Twice is gaining popularity by giving music fans the joy of disco with their first English single 'The Feels'. Until the morning of the 2nd, the day after its release, it topped the iTunes song charts in 35 overseas regions on a cumulative basis, and also ranked 3rd, the team's highest ranking in the United States.


In addition, on the 16th, it recorded its own record by ranking 83rd on the US Billboard's main chart 'Hot 100', 5th on 'Digital Song Sales', 10th on 'Billboard Global (excluding the US)', and 12th on 'Billboard Global 200'. It succeeded in charting in nine Billboard categories, including 'Artist 100', 'Spanish Digital Song Sales', and 'Canadian Digital Song Sales'.
KDOL app download↓↓↓↓↓↓↓↓↓↓
https://kdol.page.link/?apn=com.hashpurple.kdol_flutter&ibi=com.hashpurple.kdol-flutter&isi=1524477967&link=https://kdol.me/en