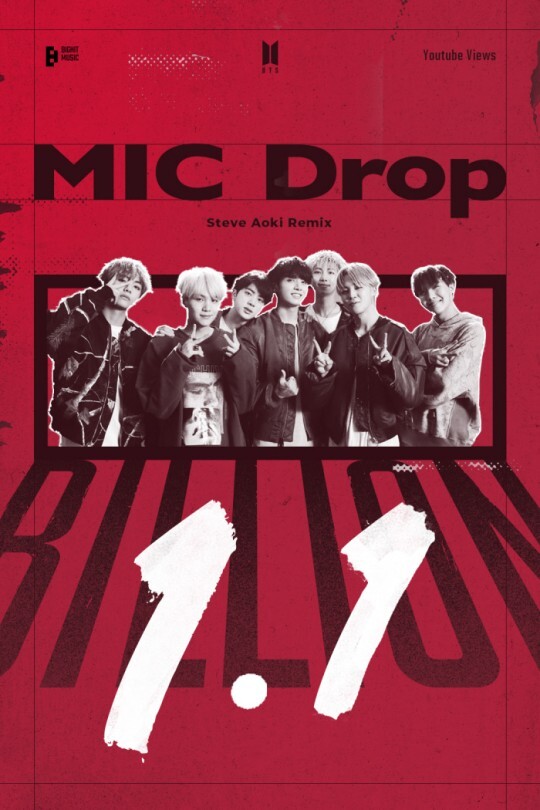 The group BTS' 'MIC Drop' remix music video has reached 1.1 billion views.

The number of YouTube views of the 'MIC Drop' remix music video released by BTS in November 2017 exceeded 1.1 billion at 0:51 am on the 11th.

With this, BTS has the 4th music video with 1.1 billion views, following 'Boy With Luv (Feat. Halsey)', which has surpassed 1.4 billion views, 'DNA', and 'Dynamite' with 1.3 billion views.


'MIC Drop' Remix is ​​a remix version of 'MIC Drop' by DJ Steve Aoki from LOVE YOURSELF 承 'Her' released in September 2017.

Immediately after its release, it entered the US Billboard's main single chart 'Hot 100' at #28 and stayed on the chart for 10 weeks in a row, gaining worldwide popularity.

The 'MIC Drop' remix music video, in which Steve Aoki appeared together, captured the sensual effect and sophisticated visuals of BTS' splendid performance with a unique and powerful sound in the background.

In particular, the scene in which member Suga drops the microphone at the end of the video drew a lot of attention.
Vote for your idol↓↓↓↓↓↓↓↓↓↓
https://kdol.page.link/?apn=com.hashpurple.kdol_flutter&ibi=com.hashpurple.kdol-flutter&isi=1524477967&link=https://kdol.me/en