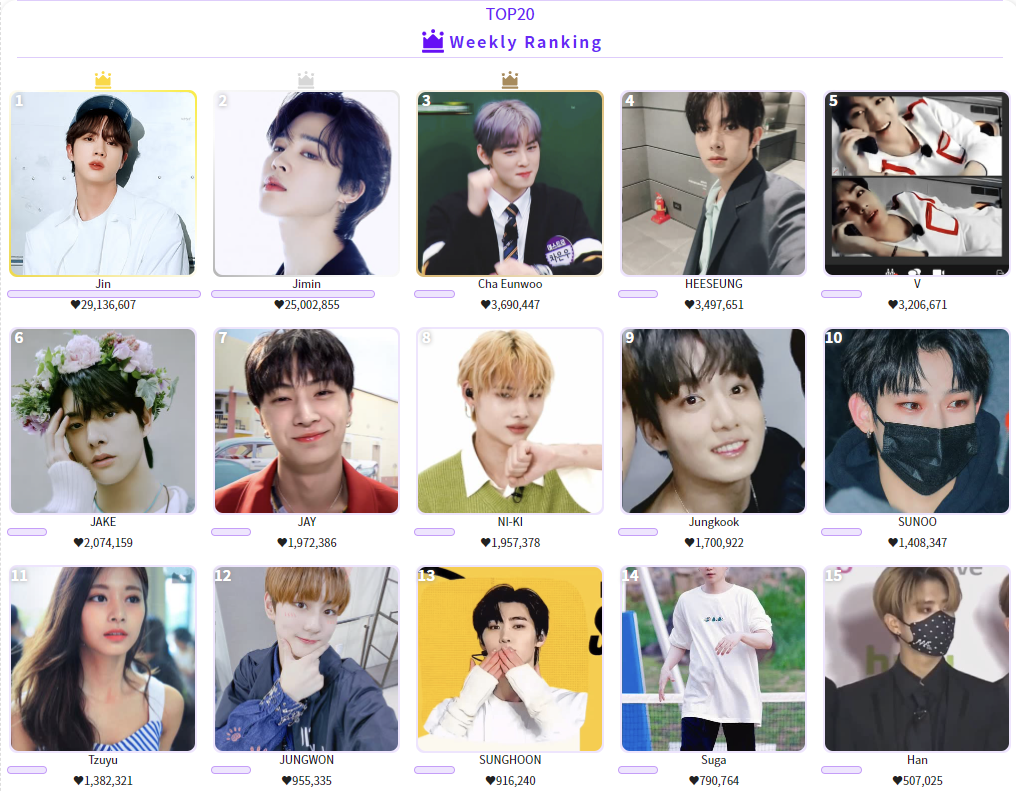 BTS Jin took the top spot in the fourth week of December on the global K-pop idol popular chart service app 'KDOL', receiving the most hearts.

KDOL counts real-time votes for K-pop idols and resets it every day at midnight Korean time.

In the weekly ranking for the fourth week of December, Jin took first place with a total of 29,136,607 hearts. In second place was Jimin, a BTS with 2,5002,855 hearts. Next, △ Astro Cha Eun-woo △ ENHYPEN Hee-seung △ BTS V △ ENHYPEN Jake was counted.

Jin took the first place for the second time following the weekly ranking in the first week of December (November 29 - December 5), and is honored as the third idol to record the first place in the week after Jimin and V of the same BTS member.

KDOL, a global K-pop idol popularity chart service app that allows users to vote from around the world, reflects 100% of the votes of users participating in and outside the United States, Japan, Southeast Asia, and Korea, etc.

Meanwhile, in the KDOL weekly ranking for the fourth week of December, △BTS Jin △BTS Jimin △Astro Cha Eunwoo △ENHYPEN Heeseung △BTS V △ENHYPEN Jake △ENHYPEN Jay △ENHYPEN Ni-ki △BTS Jungkook △ENHYPEN Sunoo △TWICE Tzuyu △ENHYPEN Jung Won △ENHYPEN Sunghoon △BTS Suga △Stray Kids Han △BTS J-Hope △BTS RM △Seventeen Jeonghan △Stray Kids Lee Know, and ASTRO Jin Jin were counted in the following order.
Vote for your idol in KDOL↓↓↓↓↓↓↓↓↓↓
https://kdol.page.link/?apn=com.hashpurple.kdol_flutter&ibi=com.hashpurple.kdol-flutter&isi=1524477967&link=https://kdol.me/en