BTS V was named No. 1 in the "2021 World's Most Beautiful Face."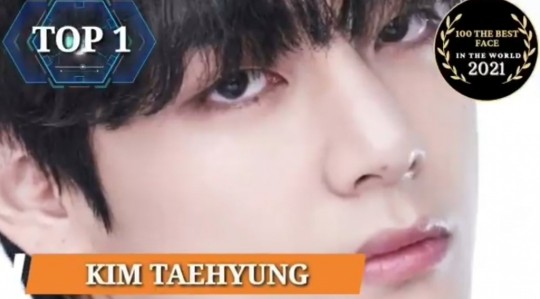 V topped the "2021 World's Most Beautiful Face in the World" released by the foreign media "Special Awards" on the 5th.


The vote was held online, Twitter, Facebook and Instagram for about six weeks from March 21.

As a result of the vote, V won another world's most handsome title among 100 male and female candidates selected regardless of gender. In particular, the vote is even more meaningful in that it has been selected as a man of charm beyond men and women.


V, who is recognized as a world-class handsome man beyond nationality and race, was recognized as the representative visual idol of K-pop in name and reality, being mentioned as the No. 1 idol handsome man selected by idols and excellent appearance with golden ratio certified by plastic surgeons.


Earlier, V also topped the annual "The Ultimate Asian Heartthrob" vote on Stamometer for the first time in three consecutive years, topping the list of famous Hollywood stars, including Chris Hamsworth and Chris Evans, selected by YouTube media Top 10 World.
Bias' Pics & Gifs▼▼▼▼▼▼
Raise Bias' brand reputation↓↓↓↓↓↓
kdol.page.link/?apn=com.hashpurple.kdol_flutter&ibi=com.hashpurple.kdol-flutter&isi=1524477967&link=https%3A%2F%2Fkdol.me%3Fkbv%3D123