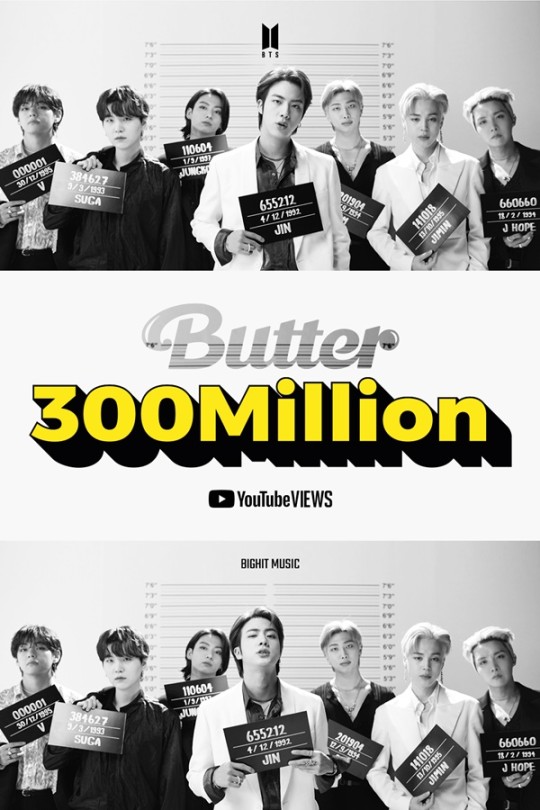 BTS' digital single 'Butter' music video has easily reached the 300 million-view mark.


The number of YouTube views of the music video "Butter" exceeded 300 million around 11:41 p.m. on the 4th. The music video reached 100 million views in 21 hours and 200 million views in 49 hours, followed by 300 million views in 10 hours on the 14th.

"Butter," released on the 21st of last month, is a summer song with an exciting and cheerful atmosphere, featuring a dynamic performance that emphasizes the lyrics of "I will melt gently like butter and captivate you."

With "Butter," BTS recorded a total of 20.9 million global streams on the May 21 chart released by Spotify, the world's largest music company, on the first day of release, setting a new record for "the largest number of global streams per day in Spotify history." It topped Oricon's Weekly Streaming Ranking for two consecutive weeks on May 31 and June 7.

The music video of "Butter" exceeded 3.9 million simultaneous users at the time of its release, achieving the highest YouTube Premier music video viewing record ever, and recording 18.2 million views in 24 hours, recognizing the record of "24 hours of YouTube music video."

Guinness World Records also listed the music video in four categories, including "The Most Viewed YouTube Video Premiere", "The Most Viewed YouTube Video in 24 Hours" and "The Most Viewed YouTube Video in 24 Hours" among K-pop groups.


Meanwhile, BTS reached number one on the U.S. Billboard's latest chart (June 5) with "Butter", ranking four songs on the "Hot 100" chart in just nine months.
KDOL app download and Raise Bias' brand reputation↓↓↓↓↓↓
kdol.page.link/?apn=com.hashpurple.kdol_flutter&ibi=com.hashpurple.kdol-flutter&isi=1524477967&link=https%3A%2F%2Fkdol.me%3Fkbv%3D123