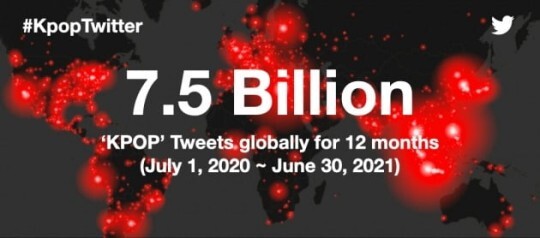 There were 7.5 billion K-pop related tweets in one year on Twitter around the world.


Twitter announced on the 30th that "from July of last year to June of this year, there were 7.5 billion K-pop tweets."


Twitter analyzed 7.5 billion tweets and counted 'Top 20 countries with the most K-pop-related tweets', 'Top 20 countries with the most K-pop fans', and 'Top 20 most mentioned K-pop artists'.


According to this, the countries where K-pop-related tweets occurred the most over the past year (based on the amount of tweets) were confirmed in order of Indonesia, the Philippines, Thailand, Korea and the United States.


In addition, Brazil, Malaysia, Mexico, Japan, India, Argentina, Peru, United Kingdom, Vietnam, Turkey, France, Chile, Canada, Saudi Arabia, Singapore, etc. were included in the TOP 20 countries, and thus K-pop from Asia to North and South America and Europe. You can see the global influence.


The countries with the most users posting K-pop related tweets were Indonesia, Japan, the Philippines, South Korea, and the United States. In addition, various countries such as Brazil, Thailand, Malaysia, India, UK, France, Spain, Saudi Arabia, Canada, Vietnam, etc. were listed in the TOP 20. During this counting period, Peru and Colombia entered the top 20 with a significant increase in the number of users chatting about K-pop on Twitter.
BTS ranked first in the 'World's Most Mentioned K-Pop Artist'. NCT, Blackpink, EXO, Treasure, Tomorrow x Together, N Hyphen, GOT7, TWICE, and Seventeen were followed in that order.


In particular, TREASURE actively communicates with global fans through Twitter, such as holding a Twitter Blue Room live four times in six months since their debut in August of last year, and the number of global mentions steadily increased, taking the top 5 for the first time. N-Hyphen, which debuted at the end of November last year, also ranked 7th, proving its global popularity.


In addition, ATEEZ, Stray Kids, The Boyz, Red Velvet, MONSTA X, iKON, IZone, DAY6, ASTRO, and SHINee made it into the TOP 20.