Jimin of BTS wrote a new history of Kpop by all-kill and the most votes in the global K-pop idol popularity poll 'KDOL'.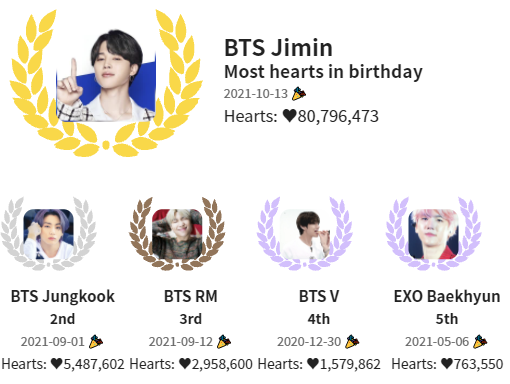 According to KDOL, in the daily ranking that ended at midnight on October 13th, Jimin's birthday, Jimin received 80,796473 hearts, ranked first in the daily ranking for 11 days, and set the record for the most daily votes and the most votes for a birthday.


In the 34th week ranking, he also received 6,506,7619 hearts, setting the record for the most votes for the week. This broke his own record by receiving 18.6 million more hearts than his previous record of 46,46,304.

With this, Jimin set a great record of being ranked first in the daily ranking of 402 times in KDOL, and in the weekly ranking of 68 times in the longest period of time.

The monthly ranking also goes with the history of KDOL without missing a single spot from August 2020, when the service starts to September 2021, and records a total of 968.5 million, 890 hearts. With a record gap between 2nd place and a close majority, he made all-kills in all categories with a new record of being inducted into the 'Hall of Fame' for 15 consecutive months.

KDOL is a popular voting service for K-pop idols, where real-time votes from around the world are counted, reset every day at midnight Korean time, and the cumulative votes of this ranking are used to create 'Hall of Fame' by adding up daily, weekly, and monthly rankings and total votes.


While swept through various popular votes, on his birthday, Jimin continues his unparalleled popularity by showing off the global dignity of a frontman representing K-pop with an unprecedented record.
KDOL app download↓↓↓↓↓↓↓↓↓↓
https://kdol.page.link/?apn=com.hashpurple.kdol_flutter&ibi=com.hashpurple.kdol-flutter&isi=1524477967&link=https://kdol.me/en