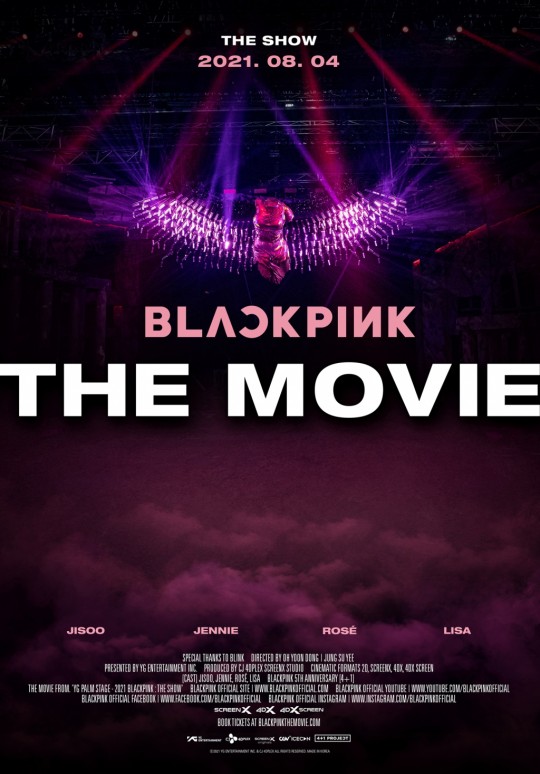 "BLACKPINK: The Movie" has confirmed its release in Korea on August 4.


YG Entertainment released the main poster of "BLACKPINK: The Movie" on the 24th.

The wing-shaped sculptures and the names of the four members in the dreamy pink-tone fog make fans excited. In particular, the phrase "2021.08.04" was engraved on the top of the poster, amplifying fans' expectations for their films.


"BLACKPINK: The Movie" is a film made to mark the fifth anniversary of BLACKPINK's debut and is one of the "4+1 PROJECT" predicted by YG.

It is expected to re-edit BLACKPINK's hit song stage by adding five songs from the "THE SHOW" and "IN YOUR AREA" (2018) concerts, giving the audience a vivid experience as if they were in a real concert hall. It also features special scenes of the members, which have not been released in the past.


Fans' responses are hot right after the news of CGV nationwide and its release in more than 100 countries around the world.


Release information from around the world can be found through "Black Pink The Music Video Dotcom," and the first global ticketing will begin on the 30th.
KDOL app download and Raise Bias' brand reputation↓↓↓↓↓↓
https://kdol.page.link/?apn=com.hashpurple.kdol_flutter&ibi=com.hashpurple.kdol-flutter&isi=1524477967&link=https%3A%2F%2Fkdol.me%3Fkbv%3D123