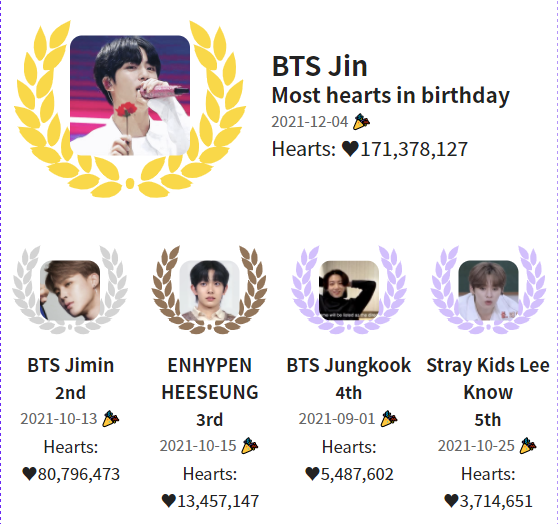 Jin of BTS received the most hearts in the first week of December on the global K-pop idol popular chart service app 'KDOL' and took first place, breaking new records for the most votes on a birthday and the most daily and weekly votes.

KDOL counts real-time votes for K-pop idols, resets it every day at midnight Korean time, and adds up the daily, weekly, and monthly rankings and overall votes with the cumulative votes of this ranking, and puts them into the Hall of Fame.

In the weekly ranking in the first week of December, Jin took first place with a total of 176,54,560 hearts. 2nd place was occupied by Jimin of BTS with 5,3926,896 hearts. Next, Astro Cha Eun-woo, ENHYPEN Heeseung, BTS V, and ENHYPEN Jay were counted in that order.


Jin, who received an all-time heart in commemoration of her 30th birthday, rose to number one weekly on the KDOL ranking for the first time, and was inducted into the Hall of Fame as the third idol to achieve weekly number one after the same BTS members Jimin and V. done.


KDOL, a global K-pop idol popularity chart service app that allows users to vote from around the world can be checked in real time.
Vote for your idol↓↓↓↓↓↓↓↓↓↓
https://kdol.page.link/?apn=com.hashpurple.kdol_flutter&ibi=com.hashpurple.kdol-flutter&isi=1524477967&link=https://kdol.me/en