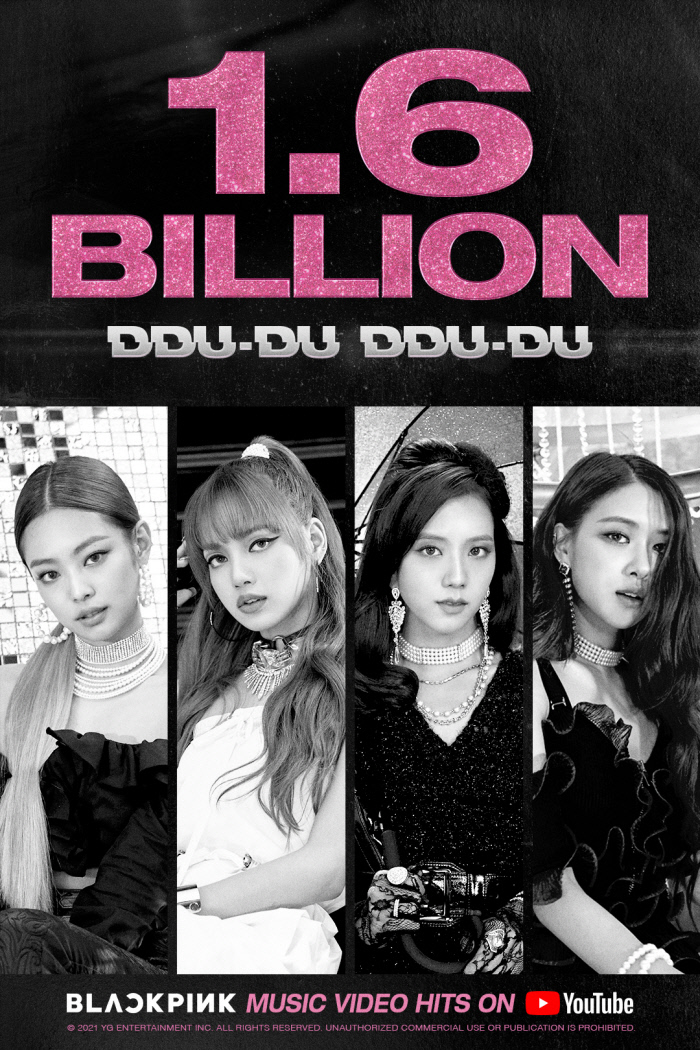 BLACKPINK's DDU-DU DDU-DU The music video has surpassed 1.6 billion views on YouTube. It is the first and highest view of the K-pop group's music video.

According to YG Entertainment on the 4th, BLACKPINK's DDU-DU DDU-DU. The music video exceeded 1.6 billion views on YouTube at 7:22 a.m.


It has been about two years and 11 months since its release on June 15, 2018. DDU-DU DDU-DU Thanks to the passionate love of global fans, the music video is breaking its own record every minute, second, and second of the K-pop group's music video record for the first, highest, and most views.

The music video, which became the first K-pop boy and girl group to reach 1 billion views in November last year, is still as hot as the new songs. Even after achieving 1 billion views, Samsung Electronics has changed its number in front of billions of views every two to three months.

"DDU-DU DDU-DU" is the title track of BLACKPINK's first mini-album "SQUARE UP". The addictive chorus and point choreography, which seemed to shoot a pistol with both hands, became popular and ranked No. 1 in the "most watched K-pop music video in the world" that year.

The song has also made remarkable achievements on various major global charts. Immediately after its release, it ranked 40th and 55th on the U.S. Billboard 200 and Hot 100, as well as "Perfect All Kill" on the domestic music charts, marking the highest ranking ever by a K-pop girl group at the time.

In addition, Spotify, the world's largest music platform, is on the verge of surpassing 400 million streaming sessions, so their "DDU-DU DDU-DU" record march is expected to continue.

It is noteworthy that BlackPink's influence is becoming stronger on YouTube, one of the leading players in the global music market.
KDOL app download and Raise Bias' brand reputation↓↓↓↓↓↓
kdol.page.link/?apn=com.hashpurple.kdol_flutter&ibi=com.hashpurple.kdol-flutter&isi=1524477967&link=https%3A%2F%2Fkdol.me%3Fkbv%3D123