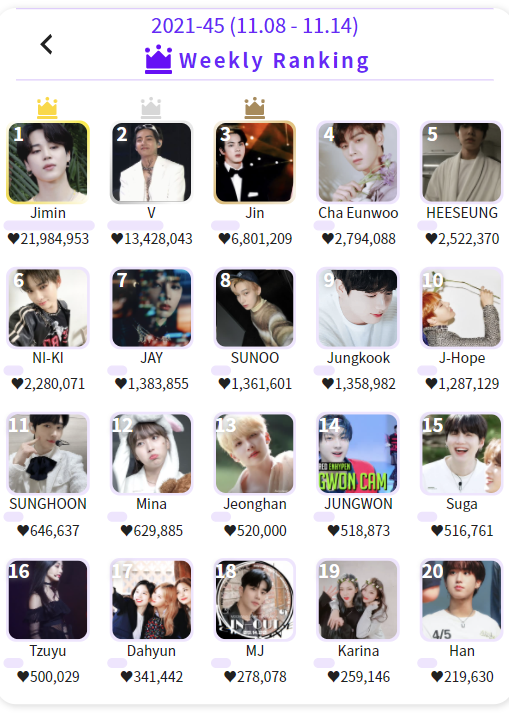 BTS Jimin showed off his unparalleled global popularity by ranking first in the weekly, weekly, monthly, and birthday votes once again in the global K-pop idol popularity voting app 'KDOL' did.

According to KDOL, in the daily ranking that ended at midnight on November 15th, Jimin received 1,512,955 hearts and climbed to No.

In the second week of November (November 8 - November 14), Jimin also took the first place with 21,984,953 hearts in the weekly ranking, breaking his longest self-record of number one for a total of 73 weeks.
In addition, Jimin, who has not missed the first place in the monthly ranking since August 2020, the beginning of KDOL, and recorded a total of 1,059.8 million, 1,646 hearts, continues the record of being listed in the 'Hall of Fame' alone for 15 consecutive months.
KDOL is a voting service for K-pop idols, and voting in countries around the world will reset every day at midnight in Korean time with real-time voting counts, and the cumulative voting of this ranking will make it to the Hall of Fame.


In particular, Jimin, who won the most votes in the birthday category, is the "frontman of K-pop" and is enjoying unprecedented popularity as he has topped the list of Korean idols' first boy group individual brand reputation for 34 consecutive months.
KDOL app download↓↓↓↓↓↓↓↓↓↓
https://kdol.page.link/?apn=com.hashpurple.kdol_flutter&ibi=com.hashpurple.kdol-flutter&isi=1524477967&link=https://kdol.me/en